Autoimmune Nutrition
Programs and Services
Improve your Autoimmune Health and Gain Control Over Your Symptoms
Working with an Autoimmune Dietitian Can Help You
Reduce joint pain and stiffness, calm your digestive system, increase energy, improve memory and coordination, sleep better, gain positive body image, feel more in control of your food choices, and achieve a positive outlook on life.
Making changes to improve our health is not an overnight process. That is why I created the RePAIR Program, since most clients benefit from a series of visits to provide on-going support and education for making positive changes.
The RePAIR Program
My Autoimmune and anti-inflammatory signature program
Are you struggling with symptoms caused by an underlying inflammatory and autoimmune condition? Do you experience pain, fatigue or digestive challenges? The REset Protocol for Autoimmune & Inflammation Reduction is an intensive 3-month nutrition program that will help you take back control of your life. Together we will create a personalized nutrition roadmap to improve mobility, energy and concentration levels to help you live your most vibrant life.
The RePAIR program includes the following:
One 75 minute initial consultation
We will take a deep dive into your health and diet history to come up with strategies to start the healing process immediately. 
Two 30 Minute Sessions/Month
These session help keep you on track with your goals. We will handle any struggles that come up and celebrate the small victories.
Unlimited Messaging in between sessions
Have a question about a certain ingredient? Need help managing a roadblock? Message me through my HIPPA compliant platform. It's like having me in your back pocket at all times.
Discounted supplement regimen
If we find that supplements will help you achieve your goals, you will receive a personalized supplement recommendation at a 35% discount. I am passing along my entire provider discount to you.
Personalized meal plans
Take the guesswork out of what to eat with personalized meal plans. These will include the foods you love plus tips on shopping and meal planning.
Additional Biomedical testing*
Looking to dig deeper? We can run additional tests such as food sensitivity, micronutrient and gut health testing to uncover hidden sources of inflammation. *Price of testing not included in package price.
Read more about Biomedical Testing Options
Biomedical testing can take a more precise snapshot of underlying causes of inflammation, digestive issues, and pain. There are a number of different tests I use to help create a more personalized approach to your nutrition plan. The most common tests I use are:
Food Sensitivity Testing: I use the MRT test to check for all food sensitivity reactions (type 3 and 4) and not just IgG (type 3), which is what most food sensitivity tests on the market look at. The MRT test checks for 170 different foods and food chemicals to help you better understand what may be causing inflammation.
Gut Health: Your health is very closely connected to the health of your gut. This test looks at your gut microbiome and checks for intestinal permeability, microbiome balance, parasites, viruses, yeast and fungi, digestive function and more. This data may help uncover root causes of inflammation and the correct path to establishing a more balanced and healthy gut.
Micronutrients: Vitamin and mineral deficiencies can cause major health issues. This test will look for both deficiencies and absorption issues to understand the root cause of inflammation and malnutrition. Using this test helps create a more personalized diet and supplement protocol to support healing.
RePAIR Group Program
I now offer my signature program in a group setting so you can get the benefits of 1:1 with additional community support.
À la Carte Nutrition Counseling Services
Not ready to commit to a program? I offer individual nutrition counseling sessions to provide education and motivation to reaching your goals.
Initial Consultation
​75 minutes
This in-depth session will focus on getting to know you and your goals. We will explore your detailed health history, dietary habits, exercise routine and personal challenges. Together we will create a plan to help you reach your goals.
Follow-up Visits
​30 minutes
These visits are crucial for maintaining accountability and support. We will review goals, celebrate milestones achieved, and work through any roadblocks that appear. Ongoing nutrition education and support will be included.
"I could not be happier with Annie's guidance in helping me forge a sustainable path to a healthier life. For many years, my relationship with food has been a difficult one— trying restrictive diets only to end up binging and feeling shameful. Since working with her, I feel like I have been able to change my lifestyle in such a positive way. Annie is also very knowledgeable regarding how my hormonal disorder (PCOS) interacts with my nutrition. My symptoms are starting to become more manageable and I am so grateful for Annie's help."
–Kiki c. Of Redwood City, CA
"I needed an experienced nutritionist to help with my chronic medical conditions. My quality of life was not what I was willing to continue living with. [Since working with Annie] I've noticed a sense of well being, improved sleep and improvements with pain and energy levels. I now have more energy and less pain, so I can enjoy more active time. Annie provides excellent feedback, education and is available for even minor questions and concerns during the whole process of working together. I would absolutely recommend her services."
–Anetta M. of Redwood City, Ca
"Annie provides practical, realistic advice that is doable with my busy life and it feels like she has my entire well-being as a goal. Before meeting with Annie, I was in a nutrition rut and felt like I needed some guidance on small, nuanced changes. I knew I needed help both refocusing my eating plan as well as broadening options for meals and snacks. After working with Annie, I feel more knowledgeable as well as more in-tune with my body. I feel more comfortable and at ease knowing that there isn't a right way or an easy out. I physically feel better as well. And I'm so grateful that I have Annie's support and guidance!"
–Kari C. of Palo Alto, Ca
"Prior to working with Annie, I was getting migraines, fatigue, nausea, bloating, and indigestion often. I was unable to work, spend time with friends, and do active things with this happening so often. Annie helped me understand my trigger foods and now I have a better understanding of what I should avoid to have the best health throughout my life. Annie was easy to work with and answered any questions I had very quickly. Each talk was very informative as well. I got a lot accomplished working with her."
–Anne S. of San Mateo, CA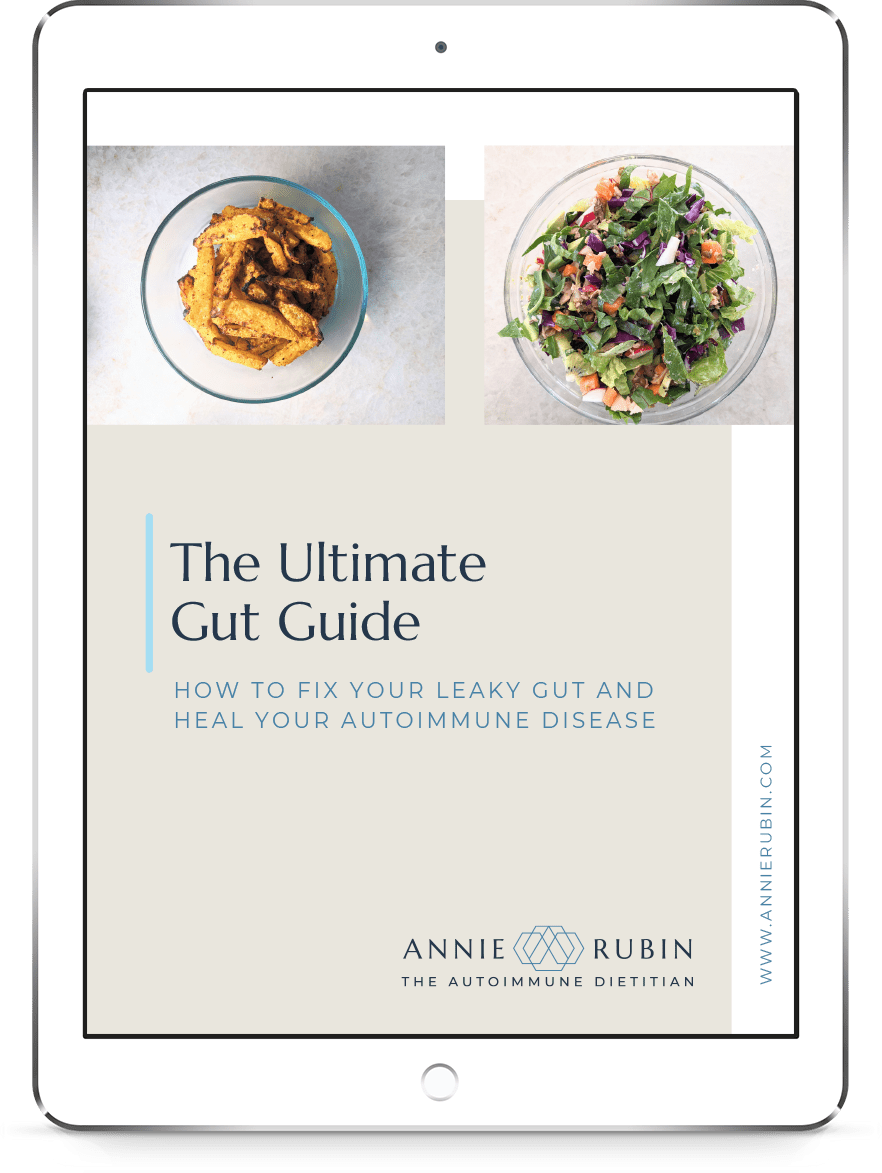 Get your FREE Ultimate Gut Guide to help heal your autoimmune disease!
Sign up below to download your free guide and join my amazing autoimmune tribe. You will be automatically enrolled in my weekly newsletter full of the latest nutrition Information. Additionally, you'll be the first to know about recent promotions, nutrition news, and special events. I want to be able to provide you with the information you need to succeed. Let's do this together!
"*" indicates required fields
A Note on Insurance and Available Practice States

I currently do not accept insurance for consultations. A Superbill to submit an insurance claim can be provided upon request. Please note that you will need a physician referral for nutritional counseling in order to obtain the correct paperwork for your claim. Please contact me for additional information.
I am allowed to practice in certain states based on licensure laws. Please click here to see a complete list. If your state is not listed, consider signing up for one of my upcoming group programs. Email me for more information.